Table lamps for outdoor, portable and touch
The table lamps for outdoor use are made of materials suitable to withstand weathering over time. In the Light Shopping catalog it is possible to find models equipped with LED technology, comfortable portable lamps and with a touch system. Choose the most suitable style for your home, from a new light to gardens and terraces thanks to the outdoor table lamps.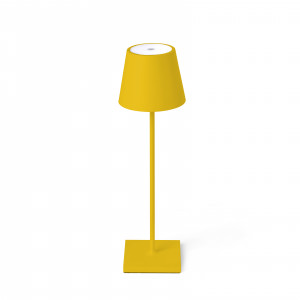 Portable table lamp for outdoor use. The lampshade has a classic shape and is connected by a thin stem to the base. The whole structure is in aluminum and can be painted in white, gray, black and yellow. On the top of the diffuser there is a touch button, which allows the lamp to be turned on and off. Equipped with USB charger.
171.51 €
110.90 €
NEW
Table lamp outdoor, IP 65, available in white, optic diffused, 10 lumen.
120.48 €
96.38 €
NEW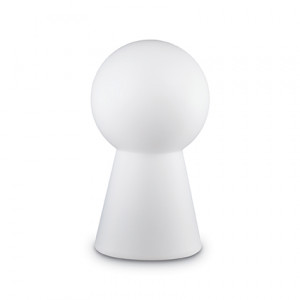 Table lamp for lighting of outdoor areas, in opaque white with cable and plug. This nice pin-shaped outdoor lamp is a practical solution to give more light in the darkest spots of the garden of the house or passage areas. Made of durable materials, it can be placed directly on the grass, it does not fear water or dust.
83.88 €
67.10 €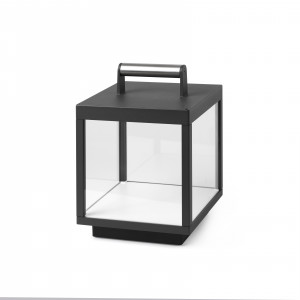 Portable cube shaped outdoor lamp, similar to a small lantern. The side faces are made of glass and allow to illuminate the environments at 360°. Made of aluminum and available in dark gray. Protection degree IP54.
225.86 €
145.90 €
Outdoor lamp that resembles a lantern. The cube-shaped structure is made of aluminum and has four glass sides that allow lighting on all four sides. Nala is a modern design bollard with IP54 protection rating. Dark gray color.
187.61 €
121.95 €
NEW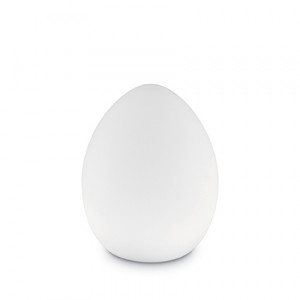 Table lamp outdoor, IP 65, available in white, optic diffused, 10 lumen.
105.23 €
84.18 €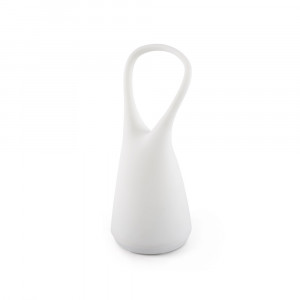 Boo is a portable design lamp. The dimmable LED light allows you to adjust the light intensity, while the touch control makes it easy to switch on. Made of opal ABS, it's available in white finish.
45.49 €
28.95 €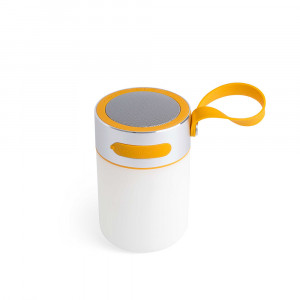 Loud is a portable design lamp with dimmable LED light. It's equipped with an on/off switch and a speaker that can be used with a USB cable, or via bluetooth. Made of PVC, it's available in white and orange finishes.
92.06 €
58.95 €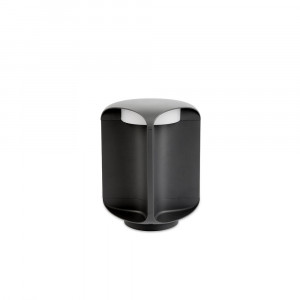 Modern design outdoor lamp with warm LED light included. Available in white and dark gray finishes, includes drivers. Height: 26,5cm.
259.01 €
167.90 €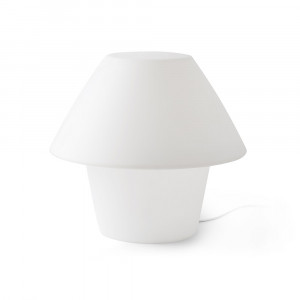 Table lamp for outdoor installation, with a clean and refined design. Made of PEMD, it's available in white. Equipped with an E27 bulb holder for halogen or LED light bulbs. The steel structure that transforms Versus into a floor lamp is purchasable separately, with a height of 79 or 153cm.
238.21 €
153.90 €
NEW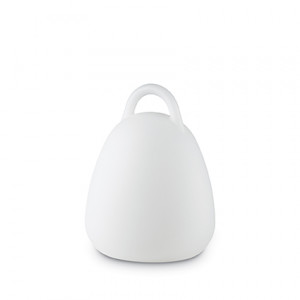 Table lamp outdoor, IP 65, available in white, optic diffused, 10 lumen.
120.48 €
96.38 €
NEW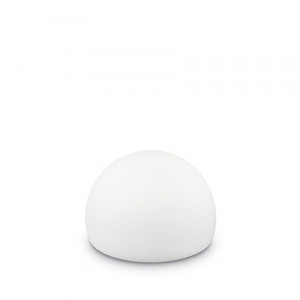 Table lamp outdoor, IP 65, available in white, optic diffused, 10 lumen.
150.98 €
120.78 €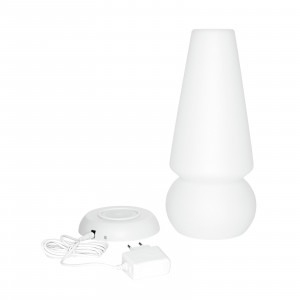 Baby Marge represents innovation in the field of lighting engineering. It is completely watertight, and can be placed in indoor or outdoor environments. This LED lamp thanks to the built-in battery, has an inducting charging base. There are no wires, so it is also suitable for kids. It has a 12-hour autonomy, where it can be moved anywhere. RGB remote control included.
136.64 €
101.89 €
Outdoor lighting for the illumination of terraces and gardens

Outdoor table lamps are very practical to enhance your outdoor spaces and create an unusual atmosphere in gardens, terraces or balconies. You can play with the unusual shapes of decorative outdoor table lamps to create breathtaking bright corners and light your summer evenings.
The beautiful and functional design of these original table lamps will allow you to prepare a poolside or the patio with the right atmosphere. In our online catalogue, you will find portable LED lamps, with both a modern or retro appearance. The outdoor table lamp Birillo, with its funny name that recalls its shape, is a practical solution for lighting dark corners in the garden or passage area. Resisting water and dust, it can be placed directly on the grass.
All table lamps for outdoors are made of weatherproof materials and the protection class is IP65. Having a table lamp for outdoors means more visibility and more comfort. We have selected for you the best outdoor table lamps, suitable for outdoor lighting. Choose the one you like most and buy it comfortably online from our e-commerce website.
Our offices are currently closed, for information fill out one of the contact forms, we will reply within one working hour from the opening of customer service. If you prefer we will call you back in the most convenient time-frame for you.
Monday - Friday
9:00 am 1:00 pm - 2:00 pm 6:00 pm