Alberto Saggia - Valerio Sommella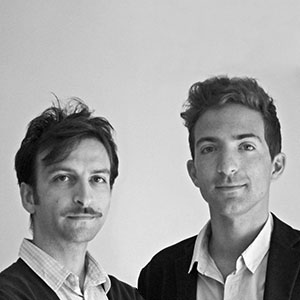 Alberto Saggia and Valerio Sommella are two designers who have both collaborated in the development of innovative products, particularly in the field of decorative lighting.
Alberto Saggia was born in Novara in 1978 and graduated in Lighting Design at the Milan Polytechnic. He finished his studies in 2004 and began working with the Metis Lighting studio in Milan, dealing with industrial design for luxury brands. In recent years he has taught Lighting Design in major Italian design universities.
Valerio Sommella was born in Cortona in 1980 and graduated from the Milan Polytechnic in 2004 with his colleague Saggia. After graduating he began his career in the design field working with Stefano Giovannoni. He later moved to Amsterdam and worked until 2009 with Marcel Wandeers. In the same year he returned to Milan and opened his own studio. Currently Valerio Sommella collaborates with numerous Italian and international companies and designs products of various kinds: objects, lighting, furniture, consumer electronics. For Lumen Center Italia, the two designers sign "Mail", wall lamps with a modern style that in their shape are reminiscent of a letters envelope.
Designer's articles