Pio e Tito Toso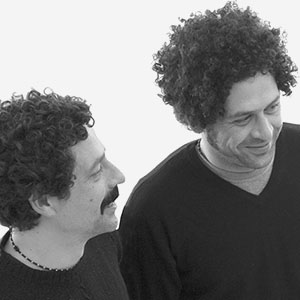 Two Venetian brothers with an overwhelming personality, they graduated from the IUAV of Venice in 1998, and then threw themselves headlong into the world of architecture and design. They participate in numerous international competitions obtaining a series of awards; they won the Good Design Award in 2009 and the Young & Design competition in 2005. Collaborate with leading companies of Made in Italy such as Alessi, Artemide, Foscarini, Bosa, Gruppo Doimo, Vistosi, Cattelan Italia, Coin, Colombo Design, Fly Line , Frighetto, Metalco, Rezek, Rossi di Albizzate, Studio Italia Design.

For Vistosi they've designed different lines of lamps that play with glass in a contemporary key: Orbital and Penta in 2013, Jo and Balance in 2011, Norma in 2009.
For the Ma&De brand, they've designed the "Oblix" lamps with asymmetrical shapes, ideal for lighting every room with style; the "Quad" lamps with a minimal style and the modern "Oxygen" lamps that are characterized by the diffuser worked with the OptiLight Technology ™ to obtain the transparency effect.

For the Italian brand Artemide they've designed the "Melete" wall lamp with a minimalist design. Pio and Tito Toso have received important prizes, including: the RedDot Design Award in 2017, Design Plus in 2016, the Good Design Award in 2009, the first prize in the Young & Design 2005 competition.
Designer's articles