Tobia Scarpa - Diego Chilò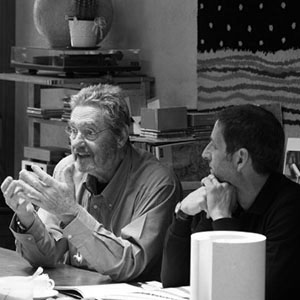 Compasso d'Oro for his career achieved in 2008, Tobia Scarpa is a cornerstone of Italian design and architecture. Born in Venice (his father is the famous architect Carlo Scarpa), he obtains a Degree in Architecture and establishes from the 60s as the star of the emerging industrial design, through collaboration with major brands like Venini, Gavina and Flos. His wife Afra and him start a happy working relationship with leading Italian design companies. His works are in numerous permanent collections around the world, including the Louvre in Paris.
Diego Chilò (Vicenza-Italy, 1957) studies at the IUAV in Venice and begins to deal with issues related to architecture and design, collaborating with Venini, Prandina, Andromeda, Arcom, Arflex, Altek, Disegnoluce, Leucos, Mareco, ONO Luce, Panzeri, Sirrah, and with the aforementioned architect Tobia Scarpa. Between 2003 and 2006 he is Artistic Director of ONO Luce. In 2010 he inaugurates with Venini his solo exhibition "Nel Vetro c'è" at the Galica gallery in Milan. In addition, he boasts monographic publications and editorials in major international newspapers, including Abitare, Arte Acciaio Architettura, CTM Magazine. For ONO Luce by Vistosi, Tobia Scarpa and Diego Chilò design "Posada", a collection of halogen lamps with clean lines in which extra-clear industrial glass blends with metal. The glass can be removed for maintenance and cleaning without the use of tools. The metal parts are entirely chrome, glass has a thickness of 3 cm is used in the floor lamp both as diffuser and as a support base.
Currently there are no items on sale of this designer
OTHER DESIGN ARTICLES