Paolo Crepax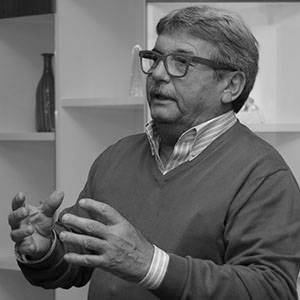 Paolo Crepax was born in Murano (Venice) in 1960 and at the tender age of 10 he starts working with the Master glassblower Livio Seguso and, in 1966, aged 16, starts working with the Master Fulvio Scarpa, who gives him his first place of "Maestro". In 1973 the Master Paolo Crepax begins an independent path and opens a furnace: Vetreria Clown Murano, dedicated to the production of clowns, Venetian women and other souvenirs, mostly for export. In 1979 Paul Crepax transforms Clown s.r.l. into Filigrana s.r.l., with an artistic orientation towards the processing method called "filigrana" (watermark), expanding research in an experimental journey in the lighting and objects world and starting a successful production. In 1984 Paolo Crepax begins to focus on contemporary creativity. In 1985 he wins the Murano 1985 Prize and the year after the Murano 1986 First Prize, together with painter Riccardo Shwaizer. In 1990 Paolo Crepax begins to work for established companies such as Firma di Vetro, Leucos, Artemide, OtyLight and Vistosi, for which he has created the "Damasco", "Follia", "Lacrima", "Segreto" and "Yuba" lamps collections.
Designer's articles
NEW
Modern Light
The Modern Light collection encloses table lamps and floor l

...
367.90 / 973.90 €
NEW
Light Long
Light Long is a collection composed of suspension lamps and ...
259.00 / 1,865.90 €