Roberto Giacomucci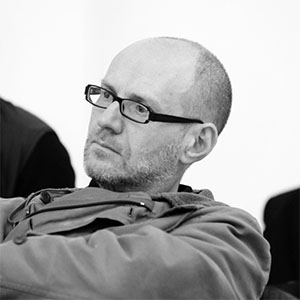 Roberto Giacomucci is an architect and designer born in Ancona who, thanks to the knowledge acquired during his studies, becomes skilled in the management of design aspects, such as spaces, techniques and materials Roberto Giacomucci during his career he collaborates with many Italian companies in the furniture and lighting and his projects receive prestigious awards: the Good Design award in 2009 and 2011, the iF Award in 2009. He obtains the honorable mention at the Compasso d'Oro ADI XXlll edition in 2013 with Cora and Zoe of Emporium.
Among the companies he worked for, we can mention R.S.V.P, Invicta, Magppie, Guzzini, Livi't, Con&Con, Confalonieri and Emporim. Roberto Giacomucci is also curator of the Oblique design magazine, and collaborates with the magazine DDN design diffusion which deals with the monthly "Design community" section.
He signs for Emporium, known lighting company numerous lines of lamps: "Rigatone", "Domino", "Kartika", "Riccia", "Nuclea", "Rosa", "Babette", "Pixi", "Truciolo", "Bea", "Reload", "Didodado". A wide range of pendant lamps, ceiling lamps, wall lamps, table lamps and floor lamps with a modern and refined design suitable to illuminate any environment.
Designer's articles