Ludovica - Roberto Palomba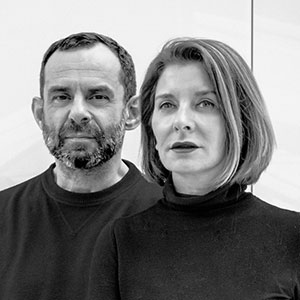 Ludovica and Roberto Palomba are two Milanese architects who have distinguished themselves for the high quality of their projects, distinguishing themselves in various sectors from architecture, to contract, to interior design and to yachting. Ludovica and Roberto Palomba have collaborated with the most established brands, designed architectures and exhibitions in various parts of the world. They have received positive reviews and various international prizes and awards, including the Compasso D'Oro, the Red Dot, the Design Plus, the Elle Decoration International Design Award, the Good Design Award and the German Design Award. Roberto Palomba also teaches the degree course in industrial design at the Milan Polytechnic. Ludovica and Roberto Palomba follow design projects for established companies such as Tubes, Zucchetti, Technogym, Sant'agostino, Elmar, Kos. For Foscarini they have desigedn the design lamps Gregg and Rituals, with unreleased explorations in the processing of blown glass.
Designer's articles
Rituals
Design lamps with blown glass lampshade and striped decoration, in the shape of a Japanese lantern. Elegant design.
348.92 / 785.68 €
Gregg
Modern lamps with white blown glass or polyethylene lampshade ideal for lighting indoor and outdoor environments.
179.34 / 1,046.76 €
Birdie
Design lamps available in various models and sizes. Ideal in various domestic contexts.
218.38 / 2,464.40 €