Setsu&Shinobu ito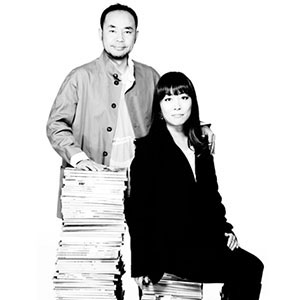 Setsu and Shinobu Ito, both Japanese architects and designers, work as consultants for numerous internationally renowned companies, dividing between Tokyo and Milan. Their style is innovative and comes from the combination of their culture of origin and their experiences gained in Italy. Their great experience leads them to experiment in several sectors: graphics, packaging, objects, electronics, interior design and architecture. Their projects have received the attention of important magazines, recognitions and international awards.
Setsu graduated at the University of Tsukuba and after graduation took part in research projects for important Japanese companies. In 1989 he moved to Milan where he worked in the Alchimia studio and later in the studio of Angelo Mangiarotti. These are the years in which his style began to take shape in fields ranging from industrial design to architecture. Setsu also carries out academic activities as a lecturer in Milan at the Domus Academy and the European Institute of Design and in Tokyo at Tama Art University.
Shinobu Ito graduated from Tama Art University in Tokyo and took a Masters in Design Direction at the Domus Academy in Milan. In Tokyo he collaborates with numerous companies in the fields of graphics, packaging, industrial design. From 1988 to 1995 he worked in marketing and design working in Japan for Sony. Later driven by his curiosity to visit Europe, he moved to Milan. It is precisely in Milan that the creative association begins with Setsu which is formalized with the launch of the Ito design studio.
Setsu & Shinobu Ito sign Lumen Center Italia's collection of "Hinode" wall lamps, indirect light lamps, designed to spread a generous light upwards and a softer beam downwards through a central slit in the lamp structure.
Designer's articles